Hello there, this is my first post, so be nice
I am currently researching history about two of my Great Grandfathers who both served in WW1.
For my Mother's, Mother's Father, Cpl Arthur Abbs Suffolk Regiment 7th Battalion, 12152, I am fortunate to have in my possession his campaign medals
(1914-15 star, British War Medal and Victory Medal, as well as 1939-45 medal and Defence medal from Home Guard service in WW2)
, his Suffolk Regiment cap badge, miscellaneous buttons (marked Royal Engineers of all things =/ ) and a fantastic photograph taken at Minden PoW camp with two other soldiers.
From left to right:
Cpl Arthur Abbs, Suffolk Regiment 7th Battalion
Cpl Foxwell (?), Scots Guards
Sgt Bond, West Yorks
Photograph taken by Ernst Kracht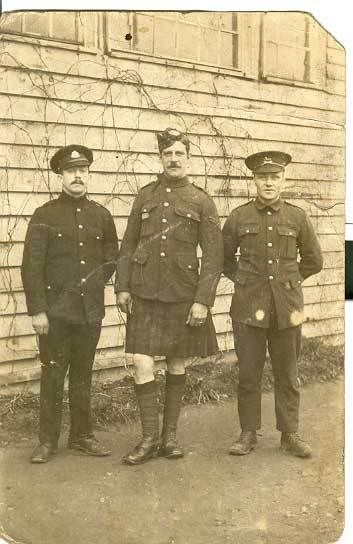 On the reverse of the photo, it just said 'taken at Minden 1917'. I wondered why he would be in Germany in 1917, and it really didn't click that he was PoW as nobody in the family had ever mentioned it (or knew of it). After a bit of digging I discovered there was a PoW camp at Minden and it all made sense. There is a (very faded) stamp on the reverse and you can just make out 'Gefangenen-Lager Minden', which confirms it. Unfortunately after scouring the Internet for information about the place, I have come up with very little. A few old photographs and the current location of the old PoW camp.
Information request:
Does anyone have any useful/interesting information about the PoW camp at Minden or the other two soldiers or my random questions?
-Who were sent there? Particular nationalities/regiments/ranks
-What happened to the prisoners after the war ended. What was the procedure undertaken?
-What is the best place to find PoW records for Minden? I heard the International Red Cross might be the best place. Would the town of Minden itself be worth trying too?
-Does anyone know anything about the other two men in the photo? What happened to them after the war ended? Although a long shot without even their first names or regiment numbers.
-Why might he have had Royal Engineer buttons? Would these have been field repairs perhaps? I know re-supplying from fallen comrades was commonplace in WW2, but did it happen in WW1 also? I also have a brass badge of the word 'Queens' I am assuming something to do with the Queens Regiment. I cannot start to imagine how he came in possession of that badge.
I am planning to visit the Suffolk Regiment museum this weekend in a hope to find some information about his battalions engagements during the war. I know he visited home at some point, I believe due to being injured and going back again, but now after learning he was PoW i'm wondering whether he was injured prior to capture and his visit home was leave from the front perhaps?
Unfortunately as a WW2 enthusiast, my knowledge of The Great War is severely lacking, hence my enquiries here. Thank you in advance for any information any of you may have!
Chris